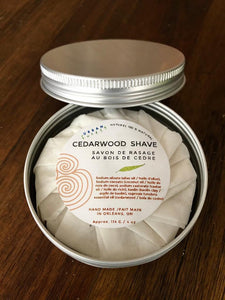 CEDARWOOD SHAVE SOAP
Definitely lots of moisturising lather to this soap. The addition of cedarwood essential oil gives its a mild earthy scent, But that's not the only reason why we formulated this soap with cedarwood. You see, cedarwood calms irritation and we'll let you in on a secret; when we used this soap to shave our legs ( yes !) there was no pesky burn afterwards. Score !
Get it with the aluminum tin so you can travel with it and then reuse the tin again and again and again ...........