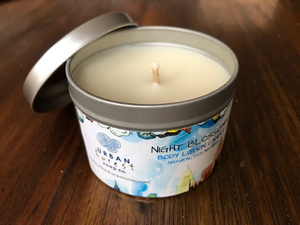 NIGHT BLOSSOM LOTION CANDLE
Imagine the sweet and exotic scent of ylang ylang mingling with lavender and you have a candle that's just perfect for your night time rituals. Leave it by your bed side and use it to moisturise your hands and let the magic of ylang ylang and lavender transport you to tranquility.
Light the candle and allow it to melt for 5 or so minutes. The pool of wax will be warm to the touch. Scoop some and apply directly onto skin. Great for hands, feet elbows and cuticles. 
Soy wax burns at a low temperature and so will not be too hot for the skin. However, test that the temperature is to your liking before application. As always, do not leave burning candles unattended.