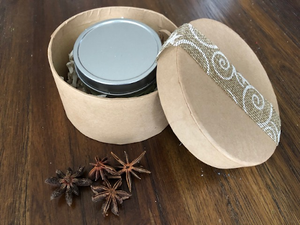 GINGER ORANGE LOTION CANDLE
This invigorating, spiced up all natural soy wax candle is made with warming ginger and uplifting orange. Use it as an after shower skin conditioner.
Light the candle and allow it to melt for 5 to 10 minutes. The liquid pool will be warm to the touch. Scoop some and apply directly onto skin. Great for hands, feet elbows and cuticles. 
Soy wax burns at a low temperature and so will not be too hot for the skin. However, test that the temperature is to your liking before application. As always, do not leave burning candles unattended.