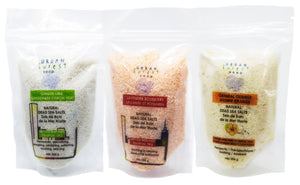 BATH SALTS TRIO
You love these Dead Sea salts and how they make you feel and would love to try them all out ? Why not get a selection of three half sized bags of 300 gms each ? We suggest starting with lavender, tea-tree eucalyptus and oatmeal orange. Or if you have favorites let us know when you place your order.
Each bag contains enough salt for 4 baths. Add a quarter cup of salt to your bath or adjust to your liking. 
We believe in the therapeutic qualities so much so that we have priced these salts well below what the market charges for ordinary salt baths, just so that you can try them out. 
The high mineral content of Dead Sea salts make them highly relaxing. Less is more !