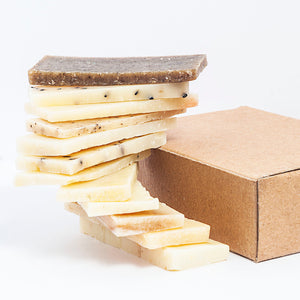 TRAVEL SOAP
This pack of soap leaves is hand crafted with 100% natural ingredients. They are eco-friendly and can be used safely and freely anywhere, with no harm to the environment. Perfect for all your getaways and trips, an essential for all your outdoor adventures.
Single use 
soap l
eaves are practical and economical, they lather in all kinds of water and  will leave your skin - and hair- clean and moisturized. 
Your pack contains an assortment of 12 
soap
 leaves, which may include the following :
Anise espresso
Cinnamon patchouli
Ginger lime sesame
Lavender
Rose geranium 
Spearmint
Tea tree eucalyptus
Woodland 
* pure essential oils
 Enjoy your time away !