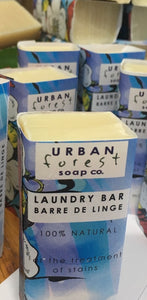 LAUNDRY BAR
Use this laundry bar as a pre-wash stain treatment or to hand wash your clothes.
Take this bar with you everywhere; to the cottage, camping or even on the plane on your next travels. 
Moisten the bar and rub over stained area and then wash clothing in usual manner.
A mild bar made only with coconut and olive oil.