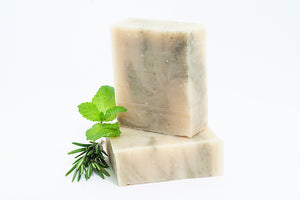 ROSEMARY MINT SHAMPOO BAR
This shampoo bar is  specially formulated for maintaining a healthy scalp. customers love this scent. Rosemary invigorates the scalp, and also helps to reduce scalp flakiness and Peppermint soothes. Cooling, tingling, energising and nourishing. 
Formulated for normal to dry hair.

Take this with you on your travels whether its a family vacation or camping/hiking. 
It doubles as a body cleanser. 2 in 1

Instructions for use: Lather shampoo bar and apply to wet hair. Rinse thoroughly. Repeat if necessary.