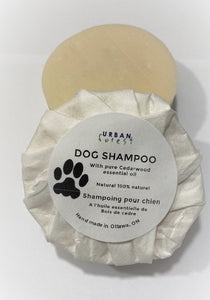 DOG SHAMPOO BAR - CEDAR
You love your pooches and want the better all natural life for them too ?
Our dog shampoo bar is formulated with cleansing coconut oil and moisturizing olive and castor oil. Get gentle cleansing softness and shine out of this bar, with added  cedarwood essential oil for for it's insect repelling properties.
Fun fact ! Dogs' skin is more alkaline than humans and the recommendation is to only bathe them if they are obviously dirty or smelly.
Patch test this shampoo bar on a small area of your dog's belly to be absolutely certain that the shampoo is not too harsh for your dog's skin. Wait a day to see if an allergic reaction occurs.
AVOID CONTACT WITH DOG'S EYES (or your pupper will be quite unhappy with you)